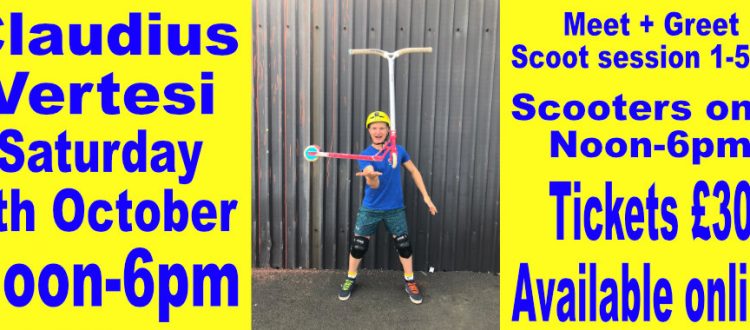 Tickets are limited and selling fast! Get your ticket here: Buy tickets here
Youtube star and scooter pro Claudius Vertesi will be with us on Saturday 6th October.
Normal park sessions will end at Noon and recommence at 6pm.
This event is tickets only!
Doors open at Noon so you can get warmed up in the park, Claudius will be seasoning the park from 1pm-5pm so you can all get a good scoot and take on the challenges thrown down.
Tickets are £30 per person. You can purchase these here:
If this is your first visit please complete a consent form prior to visiting: Our Consent Form
Doors open at Noon, Claudius will be in the park from 1pm-5pm to session with you.
This event is Scooter Only!!
As always there are no spectators permitted in the park. Entry is strictly limited to those with tickets. Spectators will be able to view from normal spectator areas.
Free parking is available all day, Please use Red Car Park.
DO NOT SCOOT ANYWHERE IN CAR PARKS OR SHOPPING CENTRE!!
OCEAN TERMINAL SECURITY WILL REFUSE ENTRY TO ANY PERSONS FAILING TO FOLLOW THIS RULE.